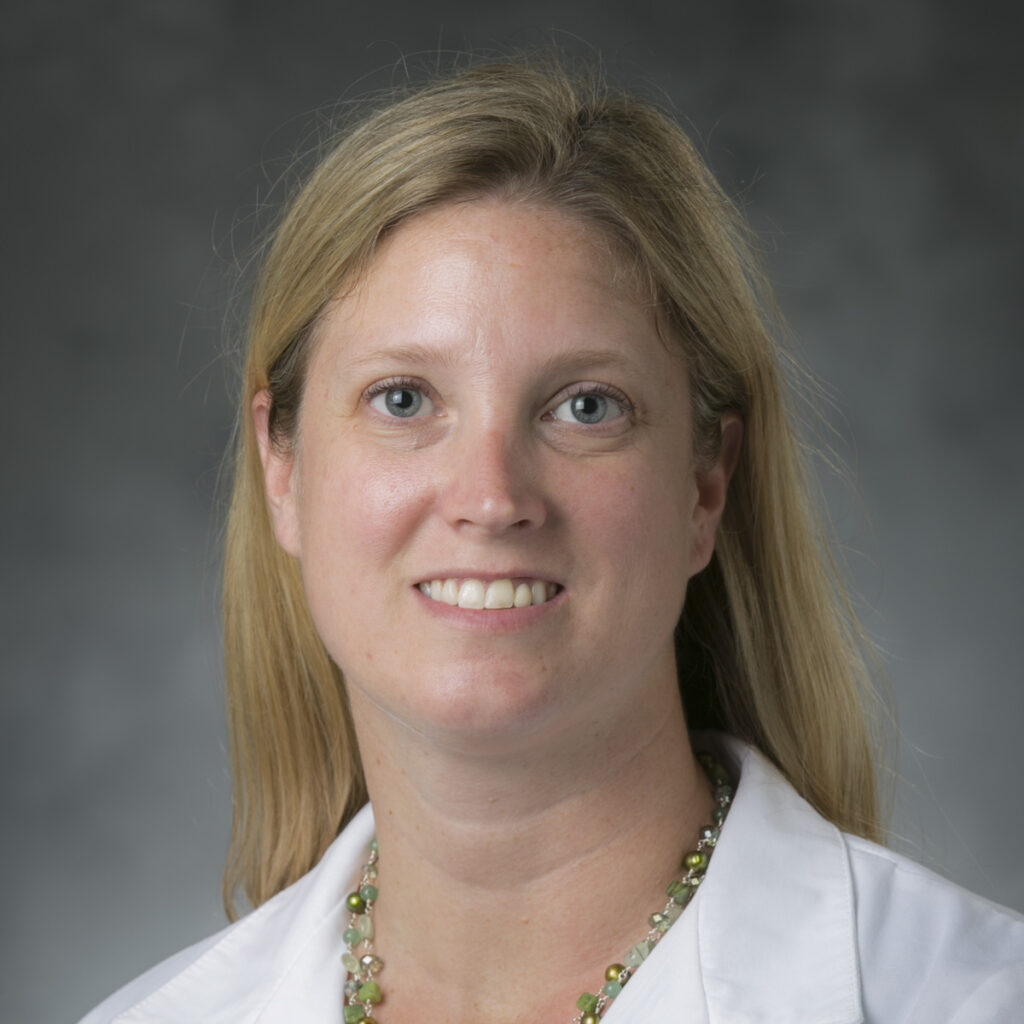 Kristin Schroeder, MD, MPH
Assistant Professor of Pediatrics
Assistant Research Professor of Global Health
Dr. Kristin Schroeder is an Assistant Professor in Pediatrics, Hematology and Oncology at Duke and Assistant Research Professor in Global Health. She is also a member of the Duke Cancer Institute- Cancer Prevention and Control Group.
Dr. Schroeder first became involved with the Hubert-Yeargan Center as a Global Health Pathway resident 2014 and currently serves as site lead for the HYC's partner site, Bugando Medical Centre in Mwanza, Tanzania. In this capacity, she supervises Duke elective rotation trainees, and serves as a research mentor for students from both Duke and the Catholic University of Health and Allied Sciences (Mwanza, TZ)  with continued development of partnership collaboration at Bugando Medical Centre. She also serves as faculty mentor for the Duke Global Oncology Fellowship Track.  She spends six months of each year in Tanzania, collaborating with clinicians and administrators to develop and maintain a pediatric cancer program. As cancer care expands multiple disciplines, the onsite supervision and extensive network of collaborators provides excellent opportunities for trainee engagement in pediatrics, medicine, pathology, emergency medicine, radiology, surgery, oncology and radiation oncology.
Dr. Schroeder's global health research focuses on creating interventions to improve childhood cancer outcomes and reduce treatment abandonment in low resource settings. The HYC provided the initial pilot funds to establish the first childhood cancer registry in Tanzania, informing local policy and future childhood cancer research projects in the region. Working under the Duke Global Cancer Initiative, Dr. Schroeder has completed additional Duke and NIH sponsored research to improve the understanding of the pediatric oncology burden in Western Tanzania, develop community awareness campaigns, and implement standardized treatment guidelines as well as psychosocial support infrastructure for children with cancer.  Her work in global oncology inspired her to create a non-profit, I-CCARE, in collaboration with Dr. Nelson Chao, one of her Duke mentors.  I-CCARE's mission is to give any child who is diagnosed with cancer the same chance of cure regardless of where they live.
Dr. Schroeder completed her Pediatric Hematology-Oncology and Neuro-Oncology Fellowships at Duke, Pediatrics Residency at UNC Children's Hospital, her MPH at West Virginia University and her MD from Georgetown University. During fellowship, she was awarded a Duke Global Health Travel Grant to explore partnerships in neuro-oncology research in Uganda and examine the incidence of meningiomas.