By Dr. Peter Kussin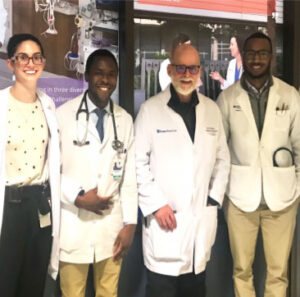 The Duke Internal Medicine residency program welcomed Dr. Chris Mwaniki to our program in July 2020. Over the past four years, it has been my privilege to work with this exceptionally talented and passionate physician as part of my global health work at Moi Teaching and Referral Hospital (MTRH) in Eldoret, Kenya. Chris' rather mundane title, "medical officer in hematology and oncology", vastly understates the importance of his role at MTRH, which serves a catchment area of 22 million people. He was the glue which held the hematology and oncology service together and consistently made great things happen for his patients. Available 24/7, he always had a solution to even the most daunting diagnostic and treatment dilemmas. His cheerful and amazingly positive attitude was a source of inspiration to every Kenyan and North American colleague and especially to his grateful patients.
All of these attributes were most evident during a three month Kenyan physician strike. Chris continued to work tirelessly and was the face of oncology on the wards at MTRH. His work during this time was heroic which is a description this modest young man would eschew but clearly deserves. During this difficult period, nothing would deter him from organizing care and follow-up for the many patients with new and existing malignancies admitted to the wards during the strike.
In addition to his responsibilities at MTRH, Chris traveled to several outlying clinics in Western Kenya to run solo sickle cell and hemophilia clinics. In addition to carrying the burden of large outpatient clinics in these settings, he also found the time to organize a smartphone/social media based process to assist and educate his hemophilia patients and to complete important research projects which he presented at international hematology meetings. Dr. Mwaniki is a superstar and Duke is fortunate to have him in our family.