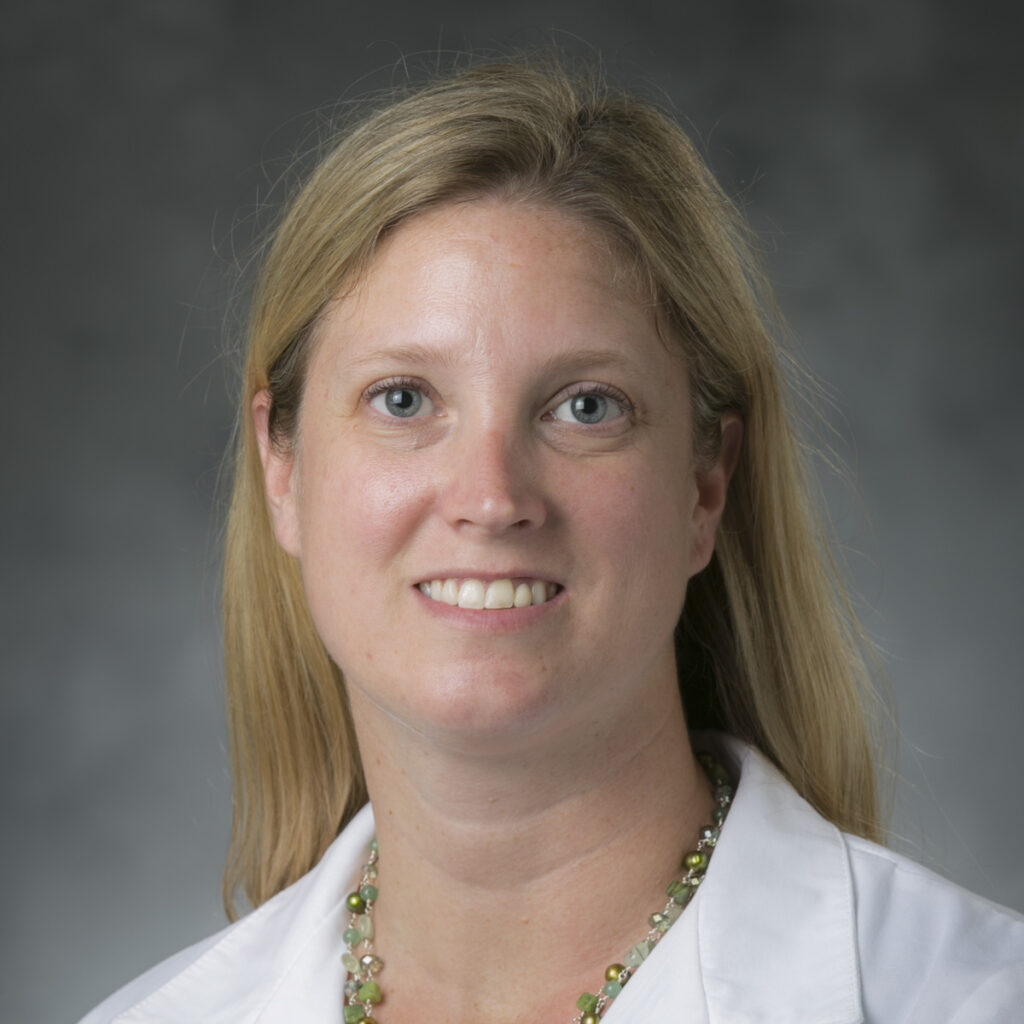 Kristin Schroeder, MD, MPH
Global Health Pathway Graduate
(919) 668-6288
Pediatric Oncology
Department of Pediatrics
2014
Summary
Dr. Schroeder began the Global Health Pathway having completed Pediatric Hematology-Oncology and Neuro-Oncology Fellowships at Duke, Pediatrics Residency at UNC Children's Hospital, her MPH at West Virginia University and MD from Georgetown. During fellowship she was awarded a Duke Global Health Travel Grant to exploring partnerships in neuro-oncology research in Uganda and examine the incidence of meningiomas. Working under the Duke Global Cancer Initiative, Kristin established a pilot project to improve the understanding of the pediatric oncology burden in Western Tanzania.  Kristin's work in global oncology inspired her to create a non-profit, I-CCARE, in collaboration with Dr. Nelson Chao, one of her Duke mentors.  I-CCARE's mission is to give any child who is diagnosed with cancer the same chance of cure regardless of where they live. Kristin is currently an Assistant Professor of Pediatrics, Assistant Research Professor of Global Health and a Member of the Duke Cancer Institute. She spends six months of each year in Tanzania, collaborating with clinicians and administrators to develop a pediatric cancer program. Her global health research focuses on creating interventions to improve cancer outcomes and reduce treatment abandonment in low resource settings.
GHP Project Related Publications:
Hatef, J., C. Adamson, O. Obiga, B. Taremwa, H. Ssenyojo, M. Muhumuza, M. Haglund, and K. Schroeder, Central nervous system tumor distribution at a tertiary referral center in Uganda. World Neurosurg, 2014. 82(3-4): p. 258-65.
Schroeder, K., A. Saxton, J. McDade, C. Chao, N. Masalu, C. Chao, D.S. Wechsler, B. Likonda, and N. Chao, Pediatric Cancer in Northern Tanzania: Evaluation of Diagnosis, Treatment, and Outcomes. J Glob Oncol, 2018. 4: p. 1-10.
Esmaili, B.E., K.A. Stewart, N.A. Masalu, and K.M. Schroeder, Qualitative Analysis of Palliative Care for Pediatric Patients With Cancer at Bugando Medical Center: An Evaluation of Barriers to Providing End-of-Life Care in a Resource-Limited Setting. J Glob Oncol, 2018. 4(4): p. 1-10.
Zullig, L.L., K. Schroeder, P. Nyindo, T. Namwai, E. Silayo, A. Msomba, M.O. Munishi, F. Karia, C. Muiruri, J. Bartlett, V. Maro, and S.Y. Zafar, Validation and Quality Assessment of the Kilimanjaro Cancer Registry. J Glob Oncol, 2016. 2(6): p. 381-386.
Panea, R.I., C.L. Love, J.R. Shingleton, A. Reddy, J.A. Bailey, A.M. Moormann, J.A. Otieno, J.M. Ong'echa, C.I. Oduor, K.M.S. Schroeder, N. Masalu, N.J. Chao, M. Agajanian, M.B. Major, Y. Fedoriw, K.L. Richards, G. Rymkiewicz, R.R. Miles, B. Alobeid, G. Bhagat, C.R. Flowers, S.L. Ondrejka, E.D. Hsi, W.W.L. Choi, R.K.H. Au-Yeung, W. Hartmann, G. Lenz, H. Meyerson, Y.Y. Lin, Y. Zhuang, M.A. Luftig, A. Waldrop, T. Dave, D. Thakkar, H. Sahay, G. Li, B.C. Palus, V. Seshadri, S.Y. Kim, R.D. Gascoyne, S. Levy, M. Mukhopadyay, D.B. Dunson, and S.S. Dave, The whole-genome landscape of Burkitt lymphoma subtypes. Blood, 2019. 134(19): p. 1598-1607.
Dr. Schroeder diagnoses approximately 150 new pediatric cancer cases per year.  Here she performs a check up on one of her patients at Bugando Medical Centre's Tuesday clinic.
Above and below, Dr. Schroeder instructs Bugando Medical Centre residents on slide prepartion for bone marrow biopsies.