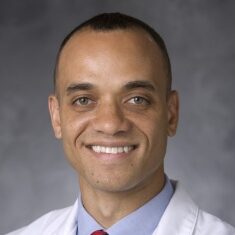 Gerald Bloomfield, MD, MPH
Global Health Pathway Graduate
Fogarty International Clinical Research Fellowship Alumni
(919) 668-8700
Cardiovascular Disease
Department of Medicine
2009
Summary
Dr. Gerald Bloomfield completed the Duke Global Health Pathway and a Fogarty International Clinical Research Fellowship in 2010 and is currently Associate Professor of Medicine and Global Health at Duke University Medical Center. He received his undergraduate degree in Psychology from Princeton University and his MD from Johns Hopkins University. During medical school, he earned an MPH from the Johns Hopkins University School of Public Health with a concentration in Health Finance and Management and International Health.
Dr. Bloomfield completed his Internal Medicine residency in the Osler Internal Medicine Training program at Johns Hopkins where he was later asked to serve as an Assistant Chief of Service (Chief Resident). He completed his Cardiology Fellowship at Duke in 2011. His earliest exposures to global medicine were during medical school and residency where he served as student, research assistant, relief worker and attending physician in Japan, Singapore, India and Kenya.
His research interests are in the epidemiology of heart failure and cardiovascular risk factors in sub-Saharan Africa. He has led studies of heart failure epidemiology, cardiovascular effects of indoor air pollution, genetic associations with cardiovascular disease and cardiovascular risk factors among HIV+ patients at the National Heart, Lung and Blood Institute's Cardiovascular and Pulmonary Disease Center of Excellence at Moi University in Eldoret, Kenya.
GHP Project Related Publications:
Bloomfield, G. S.; Hogan, J. W.; Keter, A.; Sang, E.; Carter, E. J.; Velazquez, E. J.; Kimaiyo, S. "Hypertension and Obesity as Cardiovascular Risk Factors among Hiv Seropositive Patients in Western Kenya." PLoS One 6, no. 7 (July 2011): e22288.
Bloomfield, G. S.; Hogan, J. W.; Keter, A.; Holland, T. L.; Osanya, J.; Sang, E.; Kimaiyo, S.; Velazquez, E. J. "High Blood Pressure Increases Risk of Death among Human Immunodeficiency Virus Seropositive Individuals in Kenya." [In English]. Circulation 126, no. 21 (Nov 20 2012).
Bloomfield, G. S.; Barasa, F. A.; Doll, J. A.; Velazquez, E. J. "Heart Failure in Sub-Saharan Africa." Curr Cardiol Rev 9, no. 2 (May 2013): 157-73.
Bloomfield, G. S.; Hogan, J. W.; Keter, A.; Holland, T. L.; Sang, E.; Kimaiyo, S.; Velazquez, E. J. "Blood Pressure Level Impacts Risk of Death among Hiv Seropositive Adults in Kenya: A Retrospective Analysis of Electronic Health Records." BMC Infect Dis 14 (May 22 2014): 284.
Bloomfield, G. S.; Kimaiyo, S.; Carter, E. J.; Binanay, C.; Corey, G. R.; Einterz, R. M.; Tierney, W. M.; Velazquez, E. J. "Chronic Noncommunicable Cardiovascular and Pulmonary Disease in Sub-Saharan Africa: An Academic Model for Countering the Epidemic." Am Heart J 161, no. 5 (May 2011): 842-7.
Bloomfield, G. S.; Lagat, D. K.; Akwanalo, O. C.; Carter, E. J.; Lugogo, N.; Vedanthan, R.; Velazquez, E. J.; Kimaiyo, S.; Sherman, C. B. "Waiting to Inhale: An Exploratory Review of Conditions That May Predispose to Pulmonary Hypertension and Right Heart Failure in Persons Exposed to Household Air Pollution in Low- and Middle-Income Countries." Glob Heart 7, no. 3 (Sep 01 2012): 249-59.