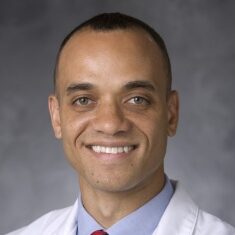 Gerald Bloomfield, MD, MPH
Associate Professor, Medicine and Global Health
(919) 668-8700
Cardiology
Department of Medicine
Summary
Gerald Bloomfield, MD, MPH, is an Associate Professor with Tenure of Medicine and Associate Research Professor of Global Health. He is also the DGHI Associate Director for Research. Dr. Bloomfield joined Duke Faculty after completing his Cardiovascular Medicine fellowship training at Duke University Medical Center and Duke Clinical Research Institute. He received his A.B. degree from Princeton University. He completed his medical education and internal medicine residency at Johns Hopkins Hospital where he also served as Assistant Chief of Service. He completed a Master of Public Health degree from Johns Hopkins University.
Dr. Bloomfield began his engagement with the HYC as part of the Duke Global Health Pathway in 2008. During that time, he also completed a Fogarty International Clinical Research Fellowship, graduating from the GHP in 2010. He then launched a clinical research program at Moi University in Eldoret, Kenya to determine the causes of heart failure in western Kenya supported by a K01 Career Development Award from the Fogarty International Center.  He has remained an integral part of the HYC's Cardiovascular Center of Excellence at Moi Teaching and Referral Hospital in Eldoret since that time, helping to establish the Moi Cardiovascular Fellowship program and leading numerous research, capacity development and training endeavors.
As part of Dr. Bloomfield's commitment to the HYC over the years, he has lived and worked in Eldoret, Kenya for extended periods of time. He has served as a research mentor, a clinical preceptor, an educational resource for a wide variety of Kenyan trainees, and an onsite supervisor for US trainees in Eldoret. At Duke, he has welcomed and supervised Kenyan trainees on clinical rotations.
His research interests are in the epidemiology of heart failure, cardiovascular risk factors in sub-Saharan Africa and cardiovascular complications of HIV infection.  He has led numerous NIH-supported studies of heart failure epidemiology, cardiovascular effects of indoor air pollution, genetic associations with cardiovascular disease and cardiovascular risk factors among patients with HIV at the Cardiovascular Center of Excellence at Moi University in Eldoret, Kenya and Cardiac Division of Moi Teaching and Referral Hospital.