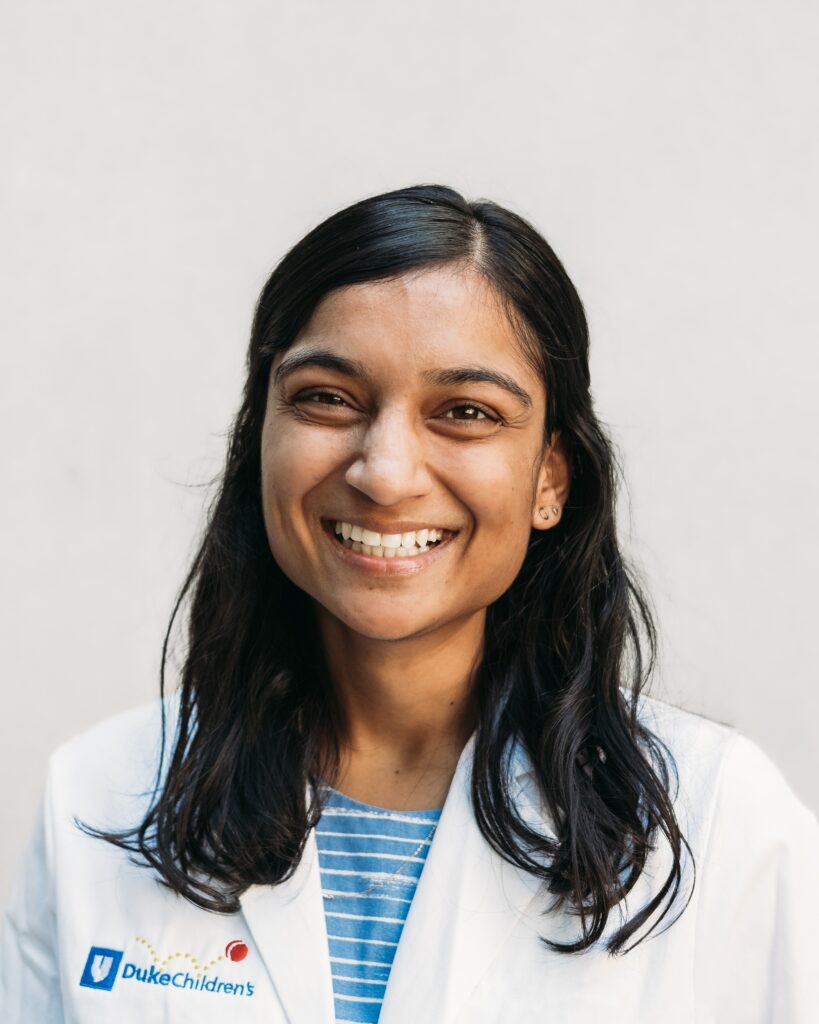 Ganga Moorthy
Assistant Professor in Pediatric Infectious Diseases, Duke Department of Pediatrics
Assistant Research Professor, DGHI
Associate Program Director, Duke Pediatrics Residency Program
Medical Director for Pediatrics Antimicrobial Stewardship, Duke Center for Antimicrobial Stewardship and Infection Prevention
Dr. Ganga Moorthy is an Assistant Professor in Pediatric Infectious Diseases and Assistant Research Professor at Duke Global Health Institute. She serves as an Associate Program Director for the Duke Pediatric Residency Program and is the Medical Director for Pediatric Antimicrobial Stewardship in the Duke Center for Antimicrobial Stewardship and Infection Prevention.
During her pediatric infectious disease fellowship at Duke, she participated in the Global Health Pathway and received a Master of Science in Global Health degree in 2023. Dr. Moorthy earned her undergraduate degree from the University of Oklahoma in Microbiology and her medical degree from the University of Oklahoma Health Sciences Center. She completed her pediatrics residency at Duke where she participated in the global health elective rotation to Moshi, Tanzania. She also served as a Chief Resident in Pediatrics prior to her fellowship training.
As a global health and pediatric infectious disease fellow, Dr. Moorthy spent a year living in Moshi, Tanzania studying the epidemiology and the antimicrobial resistance of neonatal bloodstream infections at Kilimanjaro Christian Medical Centre (KCMC) under the mentorship of Drs. Matthew Rubach and Blandina Mmbaga.  Her fellowship research was funded by the HBNU Fogarty Global Health Training Program and a T32 training grant through the NIH National Institute of Child Health and Disease. She also contributed to research housed within the longstanding febrile illness research collaboration between KCMC and Duke University.
Her research interests center on improving diagnosis and management of severe febrile illness in children in under-resourced settings and mitigating antimicrobial resistance globally through antimicrobial stewardship efforts. She serves as a mentor to HYC trainees and supports the HYC's capacity development efforts in Moshi, Tanzania.