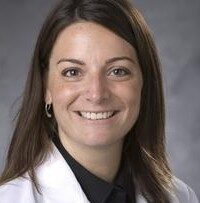 Catherine Staton, MD, MS
Associate Professor of Surgery and Neurosurgery
(919) 684-5537
Emergency Medicine
Department of Surgery
Summary
Dr. Catherine Staton is an Associate Professor of Surgery with tenure and Neurosurgery and an Associate Research Professor of Global Health. She earned her undergraduate degree at The College of William and Mary and her medical degree from the Rutgers School of Medicine, New Jersey Medical School. She completed her residency in emergency medicine at Yale-New Haven Hospital and received her Masters of Global Health from Duke. She is also completing her doctorate in health sciences at the State University of Maringa, Maringa, Brazil.
In 2011, after completing her Global Health fellowship and an ARRA NIH Post-doctoral Fellowship in Mozambique, she transitioned to Duke and switched focus to addressing injury prevention and care at Kilimanjaro Christian Medical Center in Moshi, Tanzania. Starting with a traumatic brain injury registry which became an injury registry, she has built both a decade of NIH funded research focusing on improving the care of injured patients at KCMC but improving their quality of life after injury. Her career development award from Fogarty focused on creating an alcohol harm reduction intervention for injury patients and is currently funded by NIAAA in a pragmatic randomized controlled adaptive trial.
In the last 5 years, Dr. Staton has also created an excellent network of Brazilian collaborators and is growing a research line improving patient's access to care – from snake anti-venom to prenatal care to alcohol use disorder services. Similarly, this platform of research has laid the groundwork for NIH funded Trauma D43 training program as well as research mentorship to over 130 undergraduate, graduate, doctoral and post-doctoral learners.
In 2021, Dr. Staton started the Global Emergency Medicine Innovation and Implementation (GEMINI) Research Center which she co-directs with Dr. Vissoci and Ms. Philips. This academic research center is unique in Emergency Medicine, and brings together multi-disciplinary global faculty and learners to innovate to solve access challenges in low and middle income settings.
As an affiliate of the Hubert-Yeargan Center, Dr. Staton serves as a research mentor and a strategic and capacity development partner between Duke and KCMC in Moshi, Tanzania.