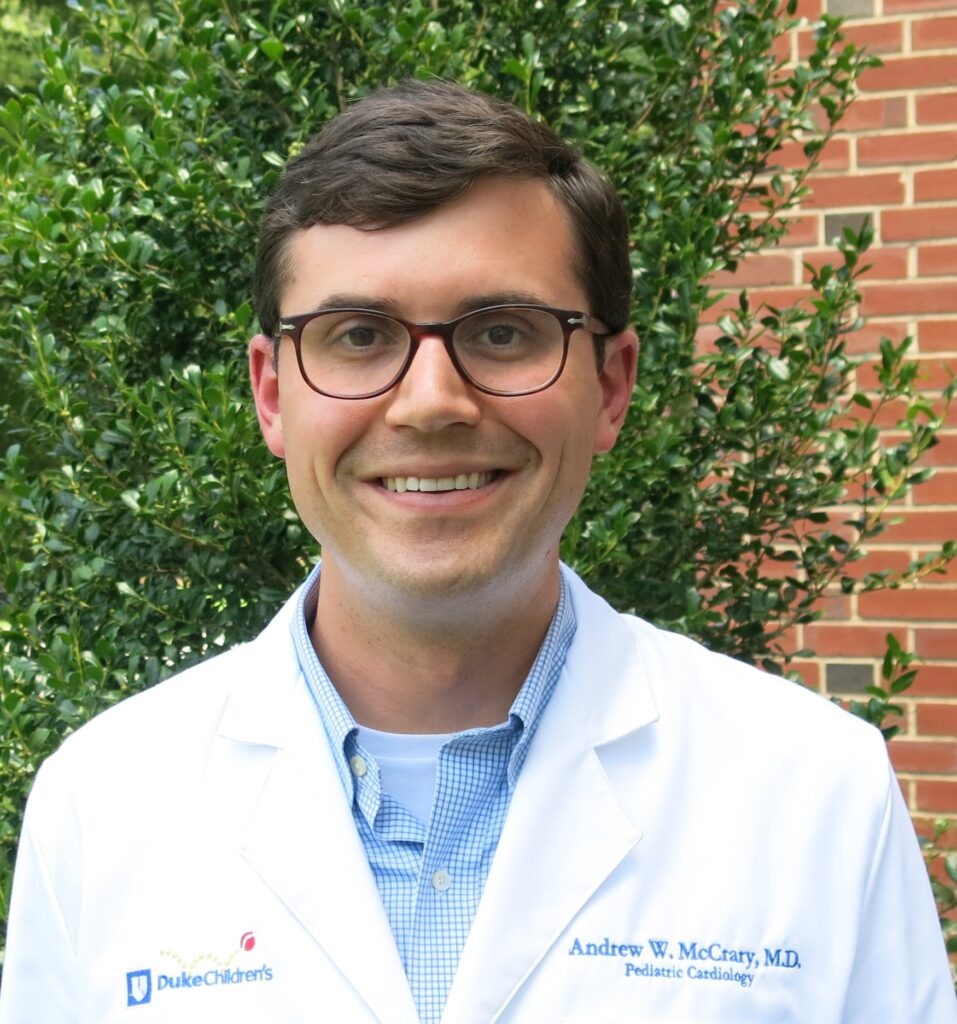 Andrew McCrary, MD, MSc-GH
Assistant Professor of Pediatrics
Global Health Pathway Graduate
Fogarty International Clinical Research Fellowship Alumni
Pediatric Cardiology
Department of Pediatrics
2016
Summary
Dr. Andrew McCrary completed the Duke Global Health Pediatric Cardiology Fellowship in 2018. He is currently an Assistant Professor of Pediatrics and a Pediatric Cardiologist at Duke. He received his medical and bachelor's degrees from Emory University and completed his residency in Pediatrics at Duke.  During his pedicatric residency, Dr. McCrary participated in the Hubert-Yeargan Center's Clinical Elective and spent two months at Tenwek Mission Hospital in Bomet, Kenya. He served as a general pediatrician and encountered a high burden of congenital and structural heart disease in children. His experience at Tenwek confirmed his decision to join the Global Health Pathway. As a Global Health Fellow, Dr. McCrary explored cardiac performance in children with HIV at Moi Teaching and Referral Hospital in Eldoret, Kenya while expanding his competency in advanced cardiovascular imaging.
GE provided a portable ultrasound for use in Dr. McCrary's research project. The work is highlighted in the GE newsroom: http://newsroom.gehealthcare.com/doctors-travel-to-remote-town-to-perform-essential-cardiovascular-exams/
GHP Project Related Publications:
McCrary, A.W., W.M. Nyandiko, A.M. Ellis, H. Chakraborty, M.J. Muehlbauer, M.M. Koech, I. Daud, E. Birgen, N.M. Thielman, J.A. Kisslo, P.C.A. Barker, and G.S. Bloomfield, Early cardiac dysfunction in children and young adults with perinatally acquired HIV. Aids, 2020. 34(4): p. 539-548.
Kontchou, N.T., A.W. McCrary, and K.A. Schulman, Workforce Cost Model for Expanding Congenital and Rheumatic Heart Disease Services in Kenya. World J Pediatr Congenit Heart Surg, 2019. 10(3): p. 321-327.
McCrary, A.W., C.U. Nduka, S. Stranges, and G.S. Bloomfield, Features of cardiovascular disease in low-income and middle-income countries in adults and children living with HIV. Curr Opin HIV AIDS, 2017. 12(6): p. 579-584.