Congratulations to Drs. Catherine Staton and Julian Hertz on receiving awards during the 2023 School of Medicine faculty awards ceremony.
Dr. Catherine Staton received the 2023 Early Career Mentoring Award in Clinical Science. Dr. Staton is an Associate Professor of Emergency Medicine at Duke and an HYC Affiliate Faculty member. She is also an Associate Professor of Surgery and Neurosurgery and an Associate Research Professor of Global Health. Her global health research focuses on trauma and injury prevention primarily in Northern Tanzania.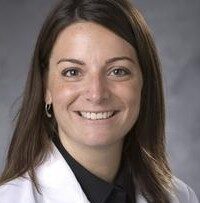 Dr. Julian Hertz was awarded the Master Clinician/Teacher Award for his commitment and service to teaching and to his students. Dr. Hertz is an Assistant Professor of Surgery and Global Health and an HYC Affiliate Faculty member. His global health research focuses on the under-diagnosis of cardiovascular emergencies in sub-Saharan Africa, particularly in Northern Tanzania, as well as improving emergency cardiovascular care in the region.