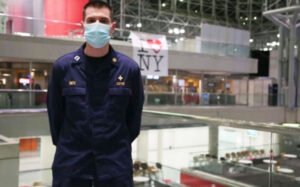 In March 2020, I was deployed to assist in standing up a federal alternative care site for patients with COVID‐19 in the Javits Convention Center in New York City (NYC). As a commissioned officer in the U.S. Public Health Service Commissioned Corps and fifth year Medicine‐Psychiatry resident at Duke, I felt morally obligated to respond to the call to provide clinical care to people and communities at the epicenter of our country's crisis. Beyond that, as a Global Health Pathway (GHP) resident at the Duke Global Health Institute / Hubert‐Yeargan Center for Global Health, the call appealed to the connection that I see between local and global health disparities. During the greater than one month‐long deployment, our team cared for more than 1,000 people infected with COVID‐19.
Indeed, those individuals most impacted by the epidemic in NYC were the socially and medically vulnerable.
Since returning from NYC with a reinvigorated interest in local health disparities, I have immersed myself in the local Duke global health community. I have worked with multi‐disciplinary groups investigating the impact of COVID‐19 on vulnerable populations, including people experiencing homeless in Durham. My hope is that our work prevents the socially vulnerable from bearing an unjust burden of COVID‐19 as has been the case thus far. To reduce local racial disparities in health outcomes, I am also investigating racial disparities in psychiatric triage, disposition and diagnosis at Duke University Hospital.
The GHP Program has given me access to a team of skilled researchers and clinicians with expertise in designing and conducting this meaningful local global health work. After graduating from Duke, I will join the Indian Health Service, where I hope to use the skills developed from the GHP to reduce health inequities faced by American Indian/Alaska Native communities.